Pariliana and the New normal
The CHSE Certification
We apply all the recommendations of the CHSE certificate.
The CHSE certification (Cleanliness, Health, Safety and Environmental Sustainability) is a certificate, a kind of quality label, issued by the Indonesian Ministry of Tourism to declare that an establishment meets the standard protocol of the New Normal recommended by the government and the WHO.
We are committed to providing a healthy environment for guests and guesthouse staff even during the pandemic.

For our part, we are committed to following:
In addition to the daily cleaning, the in-depth five-step cleaning process, developed by Airbnb.
So with each change of hosts, we:

Prepare our equipment and ventilate the space before cleaning
Clean each area by removing dust and debris
Sanitize all high-touch surfaces, appliances and electronics
Check that the space has been thoroughly cleaned and sanitized
Reset the room for the next guest and restock your supplies
For your part, we strongly encourage and thank you to respect barrier gestures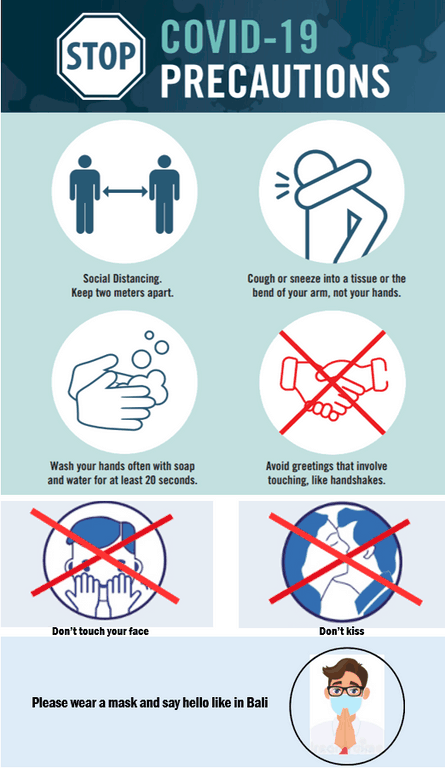 On your Arrival
On your arrival, we will thank you for providing us with a photocopy of your passport; to tell us where you were before your stay with us and where you plan to go after.
To be more complete, if you wish, you can complete and send us in advance (
parilianabali@gmail.com
or WhatsApp at +62 822 3629 3319) the special Covid-19 welcome form, downloadable below.
Our Refund Policy Covid-19

If you have booked directly with us and possibly paid a deposit at the time of booking, your deposit is automatically transformed into a voucher valid for one year which can be extended once.
If you have booked through an agency, Airbnb, Booking ..., the refund policy applied is that applied at the time of your reservation and payment to the agency. Please check these cancellation conditions when making your reservation and directly contact the agency for any cancellation / refund ...