Our Services
Use the online converter at the end of the page, to convert our rates in your currency.
Restaurant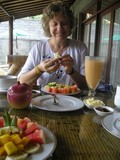 Pariliana Café and Restaurant is open from 8:15 am on booking.
We thank you for ordering your meal the day before for breakfast and in the morning for dinner. In the evening, after dinner, we will take you back to Ubud if you do not stay in Pariliana.
See section: Restaurant
Private Cooking Lesssons on site in Bali or Online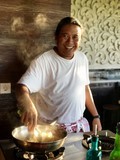 On site in Bali or online from anywhere on earth, our Balinese Chef gives you all the secrets of his recipes, in French! (and possibly in English on site).
The price of the online lesson is about 20 € / person for one recipe.
The on-site lesson is 450,000 incl. taxes per person (i.e. around € 26.5 at the average rate of € 1 for Rp 17,000 of February-March 2021) and includes 2 recipes as the tasting your realizations at the end of the session.
Online the lesson lasts about 1 to 1.5 hours. On site a lesson lasts about 1.5 hours to 2 hours plus the time for your tasting.
On site cooking lessons on appointment, every day at 11:30 am and from 4:00 pm.
Online courses are also held by appointment and can take place at any time depending on where you live and the time difference with us. (With France, lessons often take place at 11 am French time but other times are of course possible.)
To make an appointment and organize us, please contact us by email parilianabali@gmail.com or coursdecuisineabali@gmail.com or on WhatsApp or Viber +62 822 3629 3319 (Nathalie Wayan).
See all the details on our website dedicated to cooking classes:
Sightseeing tours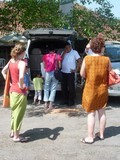 We can prepare a program of sightseeings and activities at your convenience and offer you our services as a driver, guide and interpreter or help you organize your own stay.
Whether you are one or up to six people, the price of a tour is calculated pro rata of 1,200,000 Rp. (± 70.5 €) /8 hours (150,000 Rp./hour either about 8,8 € / hour at the average rate of 1 € for 17 000 Rp.) for the group.
This price includes: taxes, car, gas, driver, guide and interpreter, his/her meal and entries to the temples and other visits.
NB: Your meals and your entrance tickets are not included in the price of the excursion. The guide eats on his/her own (unless you want to have lunch with him/her in local restaurants).
See Section: Sightseing tours
Trekking in the rice fields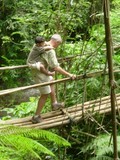 If you want to explore the surrounding rice fields, discover the fauna and flora of the countryside, meet the real Bali and the Balinese villages and rice paddies, we can guide you (you or your group of up to 6 people) for 600,000 Rp. for a walk of about 2 hours.
Massages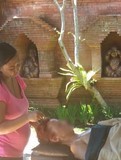 You can get massage at Villa or room by our professional masseuse. The rate of one hour of massage is 150 000 Rp. (± 10 €) / hour.
Thank you, if possible, to book the day before for the next day and at the latest 1 hour before.
Shuttles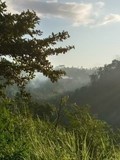 Shuttles on request between Pariliana and the Ubud Palace: 100 000 Rp. (± 5.9 €)
Taxi service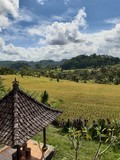 We can be your taxi to the destination of your choice. The price is calculated based on your request, either the trip if it is a simple return, or combining the time spent and the normal cost of the trip if it is to drive you on a day.
Airport Taxi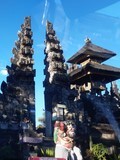 The taxi service from and for the airport is 350 000 Rp. all taxes included (about 20 €) if your plane arrive from 8 am to 6 pm and 500 000 Rp. (about 29 €) if it arrives from 6 pm to 8 am.
This rate includes the possibility of waiting for you in the event of a long delay and even picking you up the next day, at no extra cost, in case of canceled flight.
Internet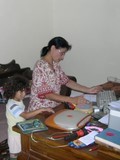 Mineral water
We put at your disposal a large bottle of drinkable water in each of our accommodations. (However, do not worry, you can wash your teeth and even accidentally drink tap water safely.)
Safety box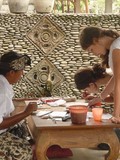 Each of our villas or rooms has its own safe.

Housekeeping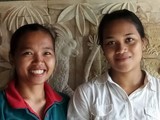 Daily cleaning of your villa or room until 14h, with (unless necessary extra change), change of the sheets every week and change of the linen and towels on demand.
(NB: To avoid disturbing you, if you are at home, we will not clean your house of room that day, unless you specifically ask us.)

Bathroom and House Linen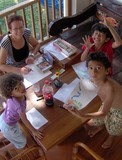 Towels and house linen is included in your rental.
Laundry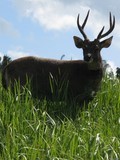 The Villa of the temple has its own washing machine.
For the Villa in the village and the rooms, you can use our washing machine from 20,000 Rp. (± 1.2 €) /washing.
In addition, in our village, two laundries allow you to wash, dry and iron your laundry at unbeatable prices.
To Convert Our Rates At The Daily Exchange Rate:
NB .: To select "Indonesia rupiah IDR" type "indo" on the converter.
To return to our website after the conversion, click on "refresh page" or "Enter" in the toolbar of your browser.
You will be automatically redirected to the homepage of www.pariliana.com