Who are we and how get in touch with us?
Please, choose your language and our website will be automatically translated.
Who are we?
We are a French-Balinese couple, Nathalie and Wayan, married in 2000. We met in Bali and then lived in France for 6 years, in Nantes, where we had our 3 children: Paris, Liyan and Anna. Then at the end of 2006 , we settled in Bali in Wayan's village, Bangkiang Sidem, near Ubud.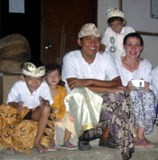 Wayan is the artist of the house. At first Sculptor and painter, he is the passionate Chef of the restaurant. He is the one who teaches you during the cooking lessons and explains you everything during the trekkings in the surrounding ricefields.
Formerly historian and geographer, Nathalie takes care of mail, accountancy and website. She is the one guiding you in French or in English during the guided tours.
A team of 2 people helps us, among others for housekeeping, gardening and cooking. They are here to serve you and to make of your stay the most pleasant experience. They are the one who put flowers in your accomodation everyday...
Our activity
We offer you :
- 2 private houses, each one with its own 2 bedrooms, kitchen, garden and swimming pool:
The Villa Pariliana, (called before "The Pavilion") located at the entrance of the village in frontof the rice fields, and
The Villa of the village, a totally private house, although located on our family ground, in the middle of the village.
- Some guest-rooms with 3 categories, small price, standard or superior, all arranged in a large building that we call "The White House", on the edge of the rice fields of our village. In this building our guests share the outdoor areas, balcony, terrace, garden and pool.
During your stay with us you can enjoy all our services to facilitate your stay in Bali, the flavoured food of our guest-restaurant and of course Balinese cooking workshops as well as excursions or other activities in French or in English :-)
Our objective
Offer to our guests:
a maximum of comfort and facilities,
the best quality/price ratio,
some services and a restaurant which worth the ones of a grand hotel,
in a simple, warm and friendly atmosphere with the smile and the Balinese feeling of well-being as a bonus.
Our plus
Allowing you to live in the heart of a small Balinese traditional village, in a totally private space but located in a Balinese family.
This way, you can discover the authentic culture and life of Bali and its inhabitants.
You can also participate to it if you wish.

We always reply to your messages within 48 hours maximum.
So if you do not receive a quick answer from us, it means that we have not received your mail and we thank you for kindly sending it again.

Our address and phone numbers:
Pariliana - Maison et Table d'Hôtes
Nathalie et I Wayan Satra
Banjar Bangkiang Sidem
Keliki - Tegallalang 80561
Gianyar - Bali
Indonesia
Tel. : +62 (0)361 8989 085
Mobile : +62 (0)812 3603 8322
e-mail : parilianabali@gmail.com
Access map and location: